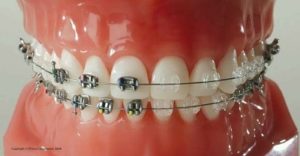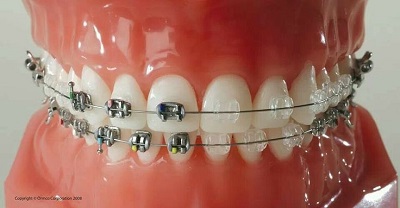 Metal Vs Clear Braces
Metal Braces
Metal braces or dental braces are the most common form of orthodontic treatment performed. First invented more than 100 years ago, metal braces have stood the test of time.  The brackets (attachments on the teeth) are made from stainless steel, titanium or a metal alloy for strength. The wire used is also made of metal and can be made from nickel titanium or stainless steel. The coloured O-rings or modules are used to secure the wire to the bracket on each tooth. Braces have come a long way since the 'traditional braces' and they are now much smaller and less noticeable than the past. Metal braces are often the least expensive treatment option. Metal braces can be used on children, teens and even adults.
At Inline Orthodontics, we use the latest low profile bracket that is not just easy to clean but is also looks great! Metal brackets are made of the strongest material possible and are known for their ease of use and reliability. With metal braces you'll know that your choosing a product that will give you the best possible results in the shortest time possible as metal brackets have been shown to have a slightly shorter treatment time compared to clear braces. For most patients, the adjustment appointments are either four or six weeks.
Clear Braces
Clear braces are tooth coloured braces where the brackets are made from a clear ceramic, sapphire or another clear material rather than the traditional stainless steel metal braces. They are the aesthetic treatment of choice for many of our adult and teenage patients who are concerned about the cosmetic aspect of treatment. They are also the treatment of choice for many hollywood celebrities such as Tom Cruise. In addition to the clear brackets, the wire material used is either the traditional metal or metal with a white coating to help make your braces even less noticeable.
Just like metal braces, clear braces work exactly the same way and are used to correct all types of orthodontic problems including spacing, crowding, protruding teeth and bite problems. For many of our patients, invisible braces are the perfect way to refresh their smile whilst being inconspicuous.
At Inline Orthodontics we have the latest Radiance clear brackets and also have white wires in order to make your braces barely noticeable. When it comes to orthodontic treatment,  every patient is unique and has different treatment options and expectations. Often it can come down to your own preference and we'll aim to accommodate your expectations. Whilst clear braces are more expensive than metal braces, the price difference is only marginal.